Hi, I'm the newest camp dog, Rucker!
My name is Rucker, I'm the newest camp dog here at Falling Creek Camp! (Well, the newest camp puppy really – I haven't grown into my paws yet!). Yates and Marisa brought me home on Thursday, and I can't wait to explore all the acres and trails that camp has to offer – not to mention meeting all the campers in just 203 days!
My dad making sure I'm all cozy for nap-time. Being a puppy is hard work!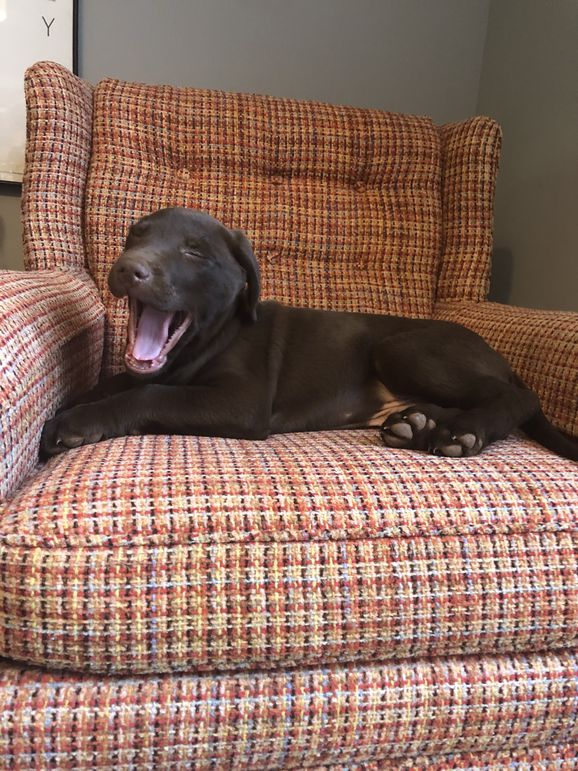 Whew, time for a nap!
I'm a chocolate lab puppy and I was born about 10 weeks ago. Everything is new to me and I love exploring – almost as much as I love naps. When I first arrived at my new home, I marched right into the camp office and said hello to all my new camp friends. They were so excited to meet me, especially Ms. Paige and Ms. Shelley, who gave me plenty of treats and pets. I also got to meet my fellow camp dog, Lulu, but I think I intimidated her with my energy. We'll be inseparable in no time!
my fellow camp dog, Lulu, isn't sure what she thinks of me yet… but we'll be best dog friends soon!
I also got to meet my brother, Lipton the cat. He's an older cat but still playful, so I think he's happy to have some company around Iolaire. He was even nice enough to share his chicken-flavored treats with me, and I was on my best behavior to show him that I would be a great new family member.
Lipton the cat meeting me for the first time at Iolaire.
It took just about all my energy to write this blog post and introduce myself. I can't wait to meet all my new camper friends this summer! But for now… time for another puppy nap.
Working in the camp office is ruff!
I can't wait to meet you at camp this summer!